Meet The Radiant Skin & Health Team
Our mission at Radiant Skin and Health is to offer exceptional skin care services and aesthetic treatments by using the latest technology while providing a calming and relaxing environment for clients in Conroe, Tx. Our friendly staff is committed to making our clients not only look great, but also feel their best and look 5 years younger with no surgery and zero downtime.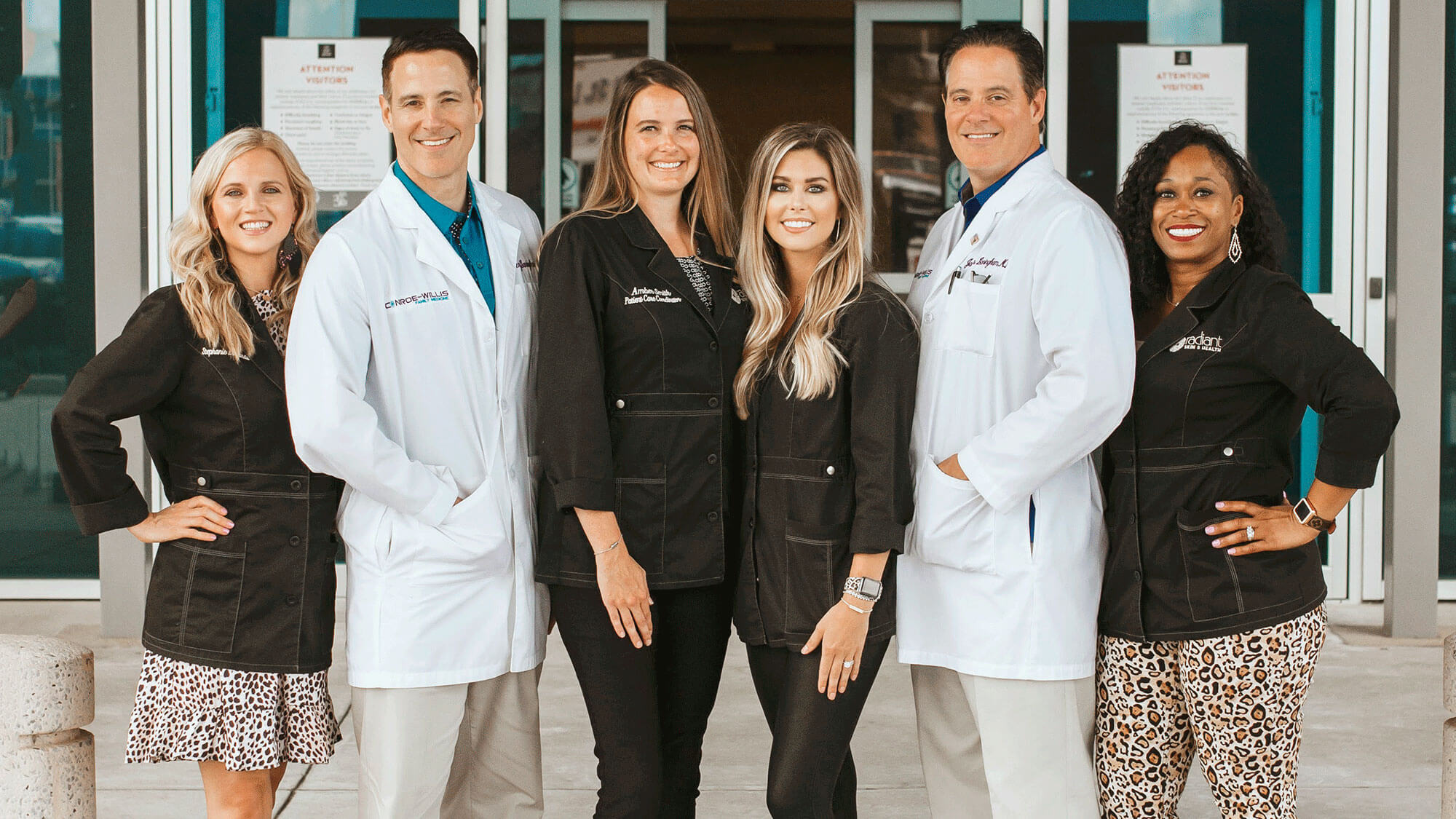 Dr. Jeremy
Laningham
Dr. Jeremy Laningham grew up in Conroe and Montgomery with his twin brother Jason. He attended Conroe High School in the late 80's, where he played QB for the football team and was co-valedictorian with his twin brother.He then received his undergraduate degree in Biomedical Engineering from Texas A&M University before attending medical school at UT Houston/MD Anderson. He completed his family practice residency at Memorial Family Practice in Houston before returning to his hometown of Conroe, where he always wanted to come home to practice medicine alongside his mentor, Dr. John Peet.
Jeremy met the love of his life, Amy Farmer, in medical school and has been happily married since 2000. She is a dermatologist in The Woodlands.
His interests include running, lifting weights, healthy cooking and eating, watching football, traveling with his wife, and spending time with his extended family. He focuses on self-improvement and personal growth – mentally, physically and spiritually.
Ebony
Pollard
Ebony is from Dallas, TX & relocated to the Houston area in 2001.  She became a Medical Assistant in 2004 after attending the National Institute of Technology.  She has always enjoyed all aspects of the healthcare field, and she is especially excited about the aesthetic/cosmetic side.
Ebony began working for the Laningham twins in 2016 -  first with Dr. Jason Laningham and currently for Dr. Jeremy Laningham.  She prides herself on being a dependable, hard worker who is always looking for a challenge.  Her favorite thing about her job is the unending opportunity to make someone leave feeling better than when they came.  With her kind nature & lively personality, she never meets a stranger.
Ebony is happily married with 4 children, 2 grandchildren, & a very spoiled pit bull!  In her spare time, she loves to cook, play brain games, and spend "couch-potato" time with her family & friends.
Amanda
Sauer
Esthetic Specialist (bio Coming Soon!)
Financing Available with Cherry
get approved instantly while in the office or click the link below to see if you qualify today.